Josie Bello in the 'Kit House' music video
In September 2019, OOMPA members completed a music video called "Kit House".
The Kit House video features an original song by Long Island's Josie Bello, and celebrates Long Island and the spirit of community and giving.
The video launch event was part of a world-wide collective organized for musicians called PlayingForChangeDay.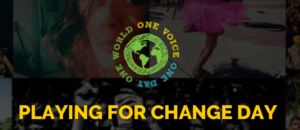 ABOUT THE VIDEO
The video was conceived by Tony Scarlatos (a Stonybrook University professor) and Frank Imburgio (who owns Desktop Solutions, a software company),  inspired by Josie Bello's new CD (Can't Go Home) and the iconic viral music videos created by Playing For Change.
Frank & Tony asked their sons, Alex Scarlatos and Richard Imburgio to join the team, and they developed a storyboard that featured the OOMPA group and their food drives and other charitable events.
The video was recorded on location at the historic Mills Pond Gallery, as well as homes and historic locations throughout Suffolk County: The Montauk Lighthouse, Argyle Lake, The Blydenburgh Park Historic District, and Long Beach Town Park.
The recording was done on location using Studio One, and video was created using traditional, gimbal and drone mounted HD cameras.
CAST & CREW
Directed by: Frank & Richard Imburgio, Tony & Alex Scarlatos
Editing: Richard Imburgio
Cameras: Tony Scarlatos, Alex Scarlatos, Rich Imburgio, Matt Levine, Frank Imburgio, John Risotto
Drone operator: Tom Benson
Song performed & written by : Josie Bello
Musical Director & Engineer: Frank Imburgio
Bass: Frank Bello
Drums: Victoria Liotta
Flute & Octave Mandolin: Artie Poore
Banjo:  Spencer G
Mandolin: John Risotto
Accordion: Phil Reinstein
Piano: Josie Bello
Guitar: Frank Imburgio, Josie Bello, Scott Kasten
Lead Vocals: Kelly & Kat, Christie Baker, Marian Mastrorilli, Kenn Machin
Chorus Vocals: Cy & Lynn, Frank Imburgio, Scott Kasten, Faith Krinsky, John Risotto, Tom Ryan, Maggie Ryan, Ken Smith, Sheryl Smith, Lori Scarlatos, Tony Scarlatos
Extras: Wade Garnett, Dave Kotlier, June Kotlier, Stu Popovitz ,Tom Zielinski, Elinor Zielinski, Mike Zielinski
ABOUT THE SONG
'Kit House' was released in 2018 on Josie Bello's CD Can't Go Home. Josie Bello is a Huntington NY based singer/songwriter who is described as "A fresh new voice for intelligent lyrics and catchy tunes you will find yourself humming after the first listen".
"I was sitting, strumming two chords as I had recently learned to play the guitar. I looked around my house and thought how thankful I was to have it, and my friends, and to live on Long Island. I had recently been told that my house - surprisingly - was a 'Kit House'. I guess the rest is history."
ABOUT KIT HOUSES ON LONG ISLAND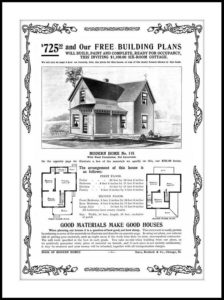 Kit houses were very popular throughout the United States, often sold by Sears. Once built, the homes are indistinguishable from others on the same block. Many homes on Long Island are 'kit houses'.
The blueprint and materials for kit houses would be delivered, and carpenters, plumbers and electricians would build them in the usual fashion.
Sears and other companies often arranged financing for the kit, lowering costs and making home ownership affordable.
Very often modern homeowners are unaware they are living in a kit house until someone notices a label, usually in the attic, describing the make and model number.
See:
These Long Island Homes Came From A Kit - Newsday May 21 2019 (pdf)
Sears Archives
KitHouseHunter.Com
ABOUT TOYS OF HOPE/AMERICAN GIVING PROJECT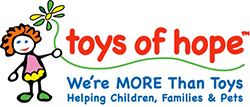 Toys Of Hope (Also known as American Giving Project) is an all volunteer charity where 100% of all donations goes towards helping needy and homeless children, families and their pets.
Founded in 1994 by Melissa Doktofsky, Toys of Hope, New York's favorite charity supports over 65,000 needy children, their families and their pets every year. Toys of Hope operates all year round and does not have any paid employees or professional fund raisers. 100% of all donations goes towards helping families in need. Known for "More Than Toys", the charity has created many programs that provide desperately needed goods and services to assist families in becoming self-sufficient and, in turn, helping to improve their children's lives.